Muslims across Canada invited their neighbors to join them inside their most sacred spaces, a week after joining together to support Jewish worshippers in a moving show of empathy.
Mosques in Halifax, Sussex, and Moncton, N.B., Sherbrooke, Que., Montreal, Ottawa, Toronto, Edmonton, and Calgary opened their doors Saturday for the second annual Visit My Mosque Day. The event aims to dispel misconceptions, foster an appreciation of the Muslim faith in Canada, and celebrate the philanthropy of the Canadian-Muslim community throughout the year.
The day is organized by The Canadian-Muslim Vote, a non-partisan organization that encourages Muslims to be politically engaged.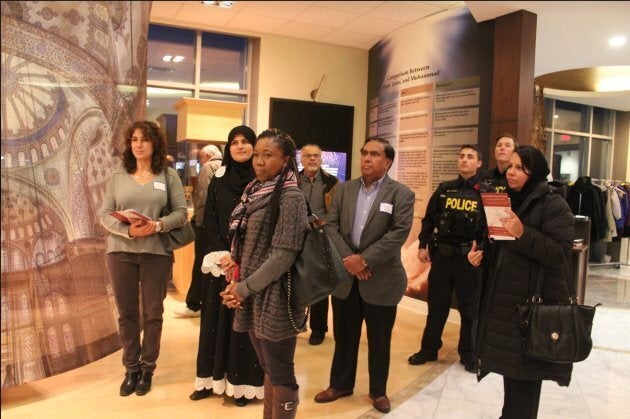 "We have nothing to hide," Shafiq Ebrahim, vice-president of Jaffari Islamic Centre in Thornhill, Ont., told HuffPost Canada by phone. "We aren't a secret society or mysterious in any way. We're law-abiding people who pay taxes and love our neighborhood and want to build genuine relationships here."
The centre offered tours of worship halls, gave lectures on education and outreach activities and had scholars on standby to answer any theological queries. Stations for women to have their hands painted with traditional henna and learn how to tie a hijab were also available for anyone interested.
"Just being available to talk is key," Ebrahim said. "I'm always surprised by how many great questions people ask, and we are committed to giving proper answers."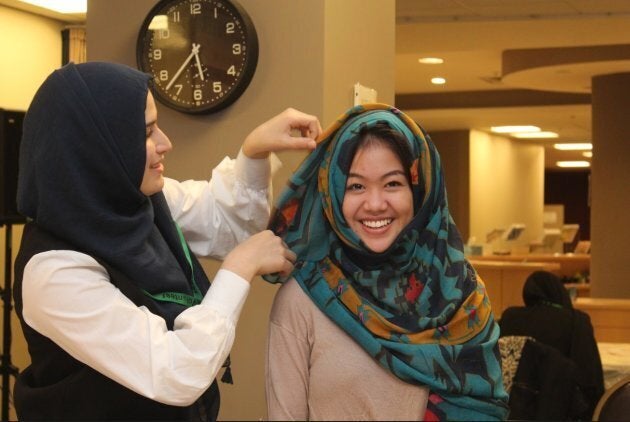 Ebrahim said that some of the questions were philosophical in nature, while others were more focused on where the congregation comes from and how it ended up in Canada. Ebrahim's community was welcomed to Canada in 1972 by then-Prime Minister Pierre Trudeau, following the forcible expulsion of Asians from Uganda.
"We owe so much to Canada and the values on which it was built," he said. "Canada opened its doors and welcomed us. We understood what this country is. What a privilege it is to live by our dear Canadian values, which we now instill in our children."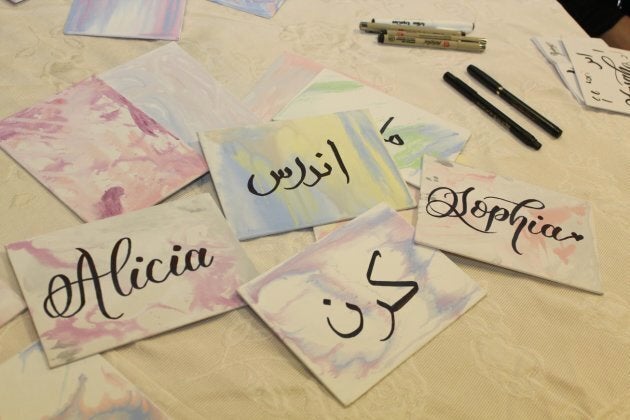 For Jaffari Community Centre, the event was yet another opportunity to invite neighbours to congregate in the space — the centre opens its doors more than 200 times a year for charitable events, talks and tours. It also joins several multi-faith communities to house, feed and clothe the homeless at the peak of winter.
Joel Harden, an NDP MPP for Ottawa Centre who toured the Ottawa Mosque, knows that charitable effort well: he recalled how, after powerful tornadoes knocked out power for legions of Ottawa-area residents in September, members of the mosque delivered food to thousands of people.
"They don't brag about it, but they're doing important things to help their neighbours all the time," Harden told HuffPost Canada by phone.
Harden, who calls himself a 'Presbyterian-socialist,' took his 10-year-old daughter, Adele, to the mosque yesterday. As kids do, she asked all the bold questions.
"She asked, 'Why do the women pray separately? Do I have to wear a head covering?'" Harden recounted. But Adele's fearlessness emboldened the adults in the room to open up a dialogue, too, instead of relying on false presumptions.